Well, folks here they are... my finished collages mailed to New Zealand for the 9th. International Collage Exhibition and Exchange. The collages are coming from all over the world . One from each participating artist will be offered for sale at an exhibition in New Plymouth, New Zealand. The selling exhibition will also be on the Net, allowing the world-wide audience the chance to buy these collages. One is part of a month-long exhibition on the Virtual TART site during April (2007), will become part of the collection of THE CENTRE FOR ADULT EDUCATION in Melbourne, Australia, while remaining permanently on exhibition on the outofsight.co.nz
Collages/Assemblages by Parmlee Gomez
"Due Date..."
5/1 author, title, due date, royal family, mystery lover, waiting to be paid. She is a poet since her girlhood and her nickname was LaLa. She grew up to be a fine handsome lady, who writes keen words about Mothers. London, UK, valid for one year to visit her memories of delicate labels sewn on her gold, red and black jacket, she discoverd a locket with her Mother's picture, wrapped in merlot colored material with fringe threads hung like veins in her arms. Is she with child?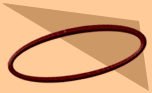 What's New?
I am wide-awake in my tenacity of discovering and showing reference to the pulse of community expression. Though collages/assemblages and bits and pieces of today's urban lifestyles, is the yoke of my artistic identity.
After twenty-five years of teaching art to the youth of Ventura County. I find myself, face to face, her I am giving people soul, adding things, pieces of life. Assemblages are motifs, symbols of the future. The diversity of multicultural spirituality influences fresh, deliberate and diligent elements to tell a story of American Urbanism.
My work is harmonious to living. My views are complicated and fly in the face of my conclusions.
Collage/Assemblages by Parmlee Gomez
"Long interludes & wee moments..."